S/V Bay Poet T-Shirts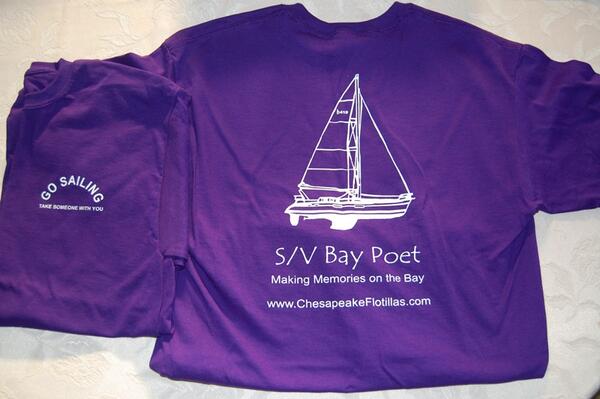 T-shirts are now available for order. The T-shirts are high quality Gildan shirts screen printed with a line drawing of Bay Poet on the back. The front left chest area has the phrase "Go Sailing. Take someone with you". See the image above. You may pick from the color palette below. All screen printing will be in white.

Available sizes are S, M, L, XL, 2XL, 3XL, 4XL, 5XL. &nbsp Shirts are $15 each for up to size XL and $16 each for size 2XL or larger. &nbsp The cost includes shipping and handling within the contiguous 48 states. Please specify size, color, and quantity. Pay by check or money order. Allow 4-6 weeks for delivery. Send your orders to Bay Poet Tshirts, 487 E Main Street, Somerville, NJ 08876-3128.
Order yours today and show how you like to sail!
Please visit the links at the bottom of this page to explore our other offerings. We can offer sailing and flotilla cruises on various portions of the Chesapeake Bay as well as around the world. For example, we have chartered in the French West Indies and in Croatia. Ask about plans for our next overseas adventure or customized training sessions!
Send me an email for more information. You may also call Chesapeake Flotillas at 908.672.3609.
&nbsp: &nbsp:
The Journey IS the Destination!